Cycle the Gap of Dunloe
Combine the Gap of Dunloe cycle with a boat trip back thought the Lakes of Killarney for one of the best day trips you'll have!
The Gap of Dunloe day trip has been enticing guests for years with its breathtaking beauty and sense of adventure. Cycle from our shop in Killarney along the Muckross Road to Ross Road and on to Ross Castle.
Upon reaching Lord Brandon's Cottage, a narrow road will bring you into the Black Valley from where you will ascend to the head of the Gap of Dunloe. From here a winding road takes you down past the Bull, Purple, Tomies and Stricken mountains, over Black Stream Bridge and out to Kate Kearney's Cottage, at the entrance to the Gap of Dunloe… all the while taking in the spectacular views which surround you.
From here, continue along the main road (still narrow!). This will bring you onto the N72 road between Killorglin and Killarney. Once you reach the 'Golden Nugget Pub', it's worth crossing the road and continuing into Killarney on the 'Fossa Way', a paved walking/cycling track off the main road.
Please note: this route is not suitable for children. Adults must be experienced cyclists.
Great low key cycle shop with knowledgeable staff and good equipment. Safety briefing hilarious yet apropos. Would book again!
Tip!
This trip can be done in either direction, taking advantage of water transport from Ross Castle or Lord Brandon's Cottage.
Quick Facts

Toilets are located opposite Kate Kearney's Cottage and Lord Brandon's Cottage.

Lunch and snacks can be also be purchased at Kate Kearney's Cottage and Lord Brandon's Cottage.
Note!
Please note: We charge a fee of 10% for cancellations to cover processing fees, subject to us receiving your request for cancellation at least 24 hours prior to the booked start time. If the booking has been made within 24 hours prior to start time, there is no entitlement to refund due to cancellation or reschedule. We may allow you choose another date and time. If you need to cancel, please email info@killarneybikerental.com
Muckross Road (100m from Gleneagle Hotel and beside Flesk Caravan Park, opposite Killarney National Park,
Killarney, Co Kerry,
Ireland V93 D6PN
Tel (international): +353 87 236 3044
Tel (from Ireland): 087 236 3044
Email: info@killarneybikerental.com
Latitude = 52.0430648 / Longitude = -9.4992853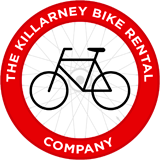 "I would highly recommend using Killarney Bike Rental and bikes, the way to go, as it's just so easy to get around".
Marcus Ryan, UK